Other Trenching Solutions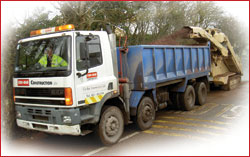 Today, technology has provided the Civil Engineering Industry with various models of trenchers in both the chain and disc version, offering state-of-the-art solutions to successfully handle any medium to large contracts, in any ground condition, guaranteeing higher productivity and lower costs.
Cro-Bar Construction Ltd. (having worked with this technology) is in a position to provide its clients with both the advice and the solutions to meet their requirements. Outlined below are some available options.
Carriageway Trenching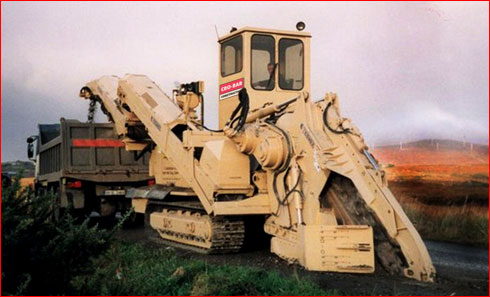 For carriageway trenching various sizes of chain trenchers are available.  They vary from the smaller 10 ton machines for medium size light works, up to 45 ton machines for larger works in rock.

Conveyors are fitted to these machines providing a self-loading capability.

In some trenchers self-levelling undercarriage and depth control devices are fitted to accommodate any ground contours and guarantees specified cover.
Chain Technology
Digs anything from Dirt to Rock
Recycles soil
Gives a constant trench size
Saves time and money
Off Road Works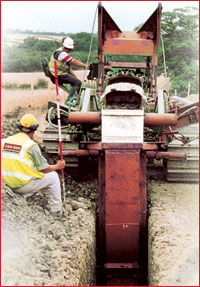 For off-road works Cro-Bar Construction Ltd. can provide a range of equipment for use in all ground conditions.

Where transport of stores and materials are hindered by ground conditions, a range of specialised transport is available to guarantee the required support for the trenchers.
Trenching Chains
These come in various sizes depending on job requirements. However, instead of a front loading conveyor, the off-road version has a side conveyor discharge.
Some trenchers are also fitted with an automatic pipe or duct laying system where required.

Bucket Wheel Trenchers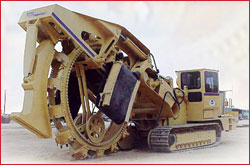 Whereas the trenching chain is primarily used in good soil and in rocky conditions, the bucket wheel is suitable for work in wet soft ground conditions, such as peat and sticky clay.