Cro-Bar Rail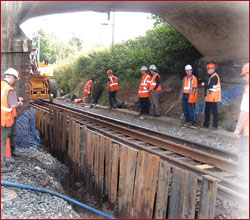 Cro-Bar Construction Ltd. are leaders in the field of drainage and underground plant installation in the rail industry. Our unique level of service provision combined with our large well-equipped workforce means that we are able to provide safe and innovative solutions to complex construction challenges.
Our services include
Storm/sewer pipelines
Telecommunications
Electricity
Water
Gas
We have the resources to install UTXs either by the traditional method of open cut or by utilising trenchless technology. This can be either horizontal directional drilling, guided augur boring, or impact moling dependant upon the location, pipe diameter or ground conditions.

Pipe bursting can be utilised to replace/upsize existing drainage/pipework with minimal excavation and reduced disruption.
Reinforced concrete works can be undertaken along with most civil engineering projects, such as:
REBs
Rowsecourt Bases
Standard Lineside Bases
Driver Walkways
Troughing
Roads, Car Parks and Footways
We promote a culture of continuous improvement and performance within the organisation. A structured approach has been taken which is independantly reviewed on a regular basis. Our staff has the practical and technical expertise to deliver solutions for any type of project.We are establishing a track record that demonstrates our professionalism and commitment, with the goal of continuing to develop the highest possible standards.