Commitment, Service & Quality
Cro-Bar Construction is an Irish and UK based contractor providing turnkey services to the building and civil engineering industries. We specialise in offering innovative and cost effective, customised solutions to our clients, delivering projects in a timely fashion, within budget, to the highest standards.
Health & Safety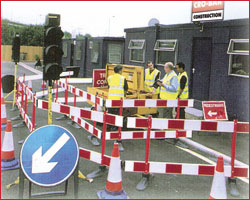 Cro-Bar Construction Ltd. is totally committed to all aspects of Health & Safety and we pride ourselves in our abilities to create a "safe system of work" at all times.
We apply strict Health & Safety procedures through workforce training and a rigorous "Quality Management  Assurance Programme".
We enjoy an excellent Health & Safety record and we continually strive to improve our current processes and procedures. The loyalty of our management and workforce is a product of our continuous investment in their personal development and training.
Environmental Management


Prior to any work commencing, all projects are assessed and procedures put in place to manage any environmental concerns. Particular emphasis is placed on protecting waterways, fuel management, spillage, noise reduction, habitat protection and recycling of materials to minimise waste.