Utility Trenching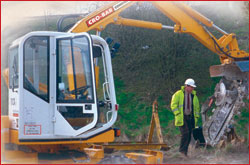 Cro-Bar Construction Ltd. has established itself as a leader in the field of underground plant installation.
From telecommunication and cable television networks, to electricity, water, gas and storm/sewer pipelines, our highly trained staff and workforce, coupled with our varied range of plant and equipment, allows us to provide a tailor made, cost effective service to meet your specific requirements.
Our Service Offering Includes:
Experienced project management team supported by highly skilled and fully accredited work teams.
Strict health and safety procedures and a rigorous quality management assurance program.
Route survey, planning and design to deliver cost-effective construction solutions and as built records.
A one-stop-shop solution to clients whatever their trenching requirements, plus all associated work, such as chamber construction, pumping stations, shafts, building entries and reinstatement.
Operationally Cro-Bar Construction Ltd. is particularly well equipped to meet its clients needs in the area of utility trenching.  Our complete range of the latest small plant and heavy equipment allows us to tackle any project (regardless of size) in an effective and professional manner delivering a product of the highest quality.
The "Flatliner" System

The "Flatliner" system is a mini-ducting solution that we have developed to provide a cost effective offering to our clients, where a cheaper cabling or small service solution is required. The system has flexibility in size and number of sub-ducts to meet our clients needs.
Our Range of Equipment Includes:
(i) A fleet of topcutters of various sizes, capable of working in anything from the most confined work areas to difficult city and urban carriageways;
(ii) A full range of other attachments are also available for the above tractor units, such as trenching chains, planers and rock wheels, allowing us the flexibility to tackle any project in any surface in either urban or rural areas.
A fleet of excavators and rubber tyred diggers, ranging from 1 ton mini-digger to large excavators.
A fleet of specialised transport such as grab trucks, hot boxes and concrete trucks to support the works.
A full range of the latest small plant such as rollers, roadsaws and compactors, allowing the construction of the complete trench to the highest standards.